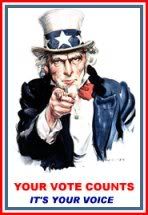 Well, everybody ...
Gotshoo
has pulled out the big guns in the race to be the 2006 Illinois Times top
blogger
. Along with retracted campaign promises to cut taxes, find WMDs, and create public health care ... he's thrown down the gauntlet by announcing a party. Not just
any
party ... he'll be throwing a local blogger bash at his new home complete with a grill, beer, wine ... all on the
condition
that you vote for him. Damn! It's diabolical ... and a stroke of
genius
...
So now I'm faced with a difficult decision ... do I retaliate with a better offer? And if I do, what possible carrot can I dangle in front of voters to get them to choose ThirtyWhat?
Does anyone remember the 80's? How about Ronald Reagan? The Cold War? Does
Mutually Assured Destruction
ring a bell?
Well, I've given it a lot of thought and came to the conclusion ... that I've got nothing. I mean ... what? I'm going to personally bring about the second coming of Christ? I'm good ... but I'm not
that
good ...
So ...
vote
your heart ...
vote
your conscious ... or, in the case of Gotshoo,
vote
your stomach. After all, we're all part of Springfield's blogging community ... and just having the Illinois Times include this category in their poll is a compliment to
every one of us
.
My name is ThirtyWhat ... and I approve this message.
First things first we're gonna change the rules
Better listen up, all you boys and girls
Your prez says there'll be no after school
So vote for me wouldn't that be cool

Extreme - When I'm President