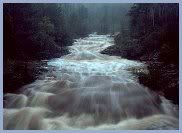 I do not normally share poetry that I write.
Primarily because I am not a poet.
But if it helps me get some sleep ... alright.

Deluge

A levy so big
It can hold back an ocean
Built with mud and sticks
And things found
So full of faults
It breaks
Turning land into lakes
And everyone
near to it drowns

Good night.
And have a pleasant tomorrow.