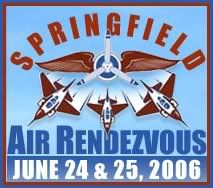 In Saturday's State Journal-Register, fellow blogger,
Job Conger
was featured in an article by Shannon Kirshner. The piece focused on his interest in aviation and his involvement in the Springfield Air Rendezvous.
Way to go, Job! Someone give this man a job ... his talent is being
wasted
. Check out his
blog
to see his
poetry
and photography skills in action.
If you really like it you can have the rights
It could make a million for you overnight
If you must return it, you can send it here
But I need a break and I want to be a paperback writer
Paperback writer

The Beatles - Paperback Writer