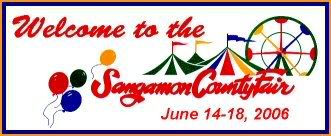 Alright ... maybe I'm jaded. After thirty some years of life, things just don't thrill me like they used to.
I'm checking out the
State Journal-Register
today, when I see
this
article:
NEW BERLIN - Susan Rasmus traveled from Chicago to bring her two children to the Sangamon County Fair, which opened Wednesday. They'll spend the week here with her sister, Julie Mies, and her children. And they'll probably be at the fair every day.

It's become a family tradition.

She estimates going to a county fair in the Chicago area would cost her $200. Here it's only $10 to get in, and everything is free. She and her sister pack a picnic lunch.

"We like the rides, and we come to see how our cousins have done in the competition. This year, Uncle Ted won with his cookies, and the cousins got some blue ribbons," Rasmus said. "It's so much fun to be part of this."
You have to be kidding me, right? I had to read this story two or three times because I was convinced they cobbed it from
The Onion
. Uncle Ted and his
cookies
?
Let me see if I can wrap my head around this. She lives in a
city
that offers:
The Shedd Aquarium
The Museum of Science and Industry
Lincoln Park and Lincoln Park Zoo
The Field Museum
Navy Pier
Sears Tower
Wrigley Field
The Magnificent Mile
The Art Institute

And yet she drives four hours to go to
New Berlin
? What the
fuck
? I would give my left nut ... no ... wait ... I would
grow
a left nut just so I could
give
a left nut ... to have all the cultural and entertainment opportunities that this woman has.
There are at least eleven
festivals
in the Windy City in the next three months ... and she drives here to see an
Eagles tribute band
? Someone shoot me.
And what's this gibberish about county fairs around Chicago costing $200? May I introduce you to a place known as the
Lake County Fair
? Just 48.8 miles from downtown Chicago, the general admission is $7 ... and children 12 and under get in free. What do they offer? Helicopter rides, a demo derby, a petting zoo, carnival rides & games, a truck & tractor pull, a queen pageants and ... even a rodeo. Sounds a lot like ... oh ... I don't know ...
New Berlin
doesn't it?
Then again the Lake County Fair doesn't have that Eagles tribute band ... or Uncle Ted's prize-winning cookies. Feh ... maybe I
am
jaded.
Hey j-j-jaded
There ain't no baby please
When I'm shootin the breeze with her
When everything you see is a blur
And ectasy's what you prefer

Aerosmith - Jaded