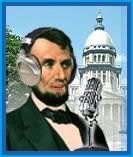 I was driving down West Washington yesterday when I saw a sign on the side of a SMT bus. It read, "Are you sick of the clutter? SpringfieldCountry.com" ... wow, who knew?
I was surfing this morning and found out that there are now a handful of local stations that are streaming on the web.
SpringfieldCountry.com
WMAY
WFMB
RockSpringfield.com
SpringfieldCountry and RockSpringfield look suspiciously similar ... and I'm not entirely sure they aren't the same company just running two separate feeds. Maybe one of you guys out there know more? Is this a Clear Channel type thing?
I'm not really into country music ... well, to be honest, I'm not really into
radio
period. I carry my iPod with me everywhere ... and with 4,500 songs, I'm pretty much my
own
radio station.
In fact, I keep saying I'm going to record my own bumpers ... and mark my words, one of these days I'll have a dozen different mp3s with catchy sayings like, "ThirtyWhat Radio ...
Wow!
what a difference!"
Edit - I've spent the last 30 minutes Googling ... and apparently no one makes their own bumpers. Furthermore, no one wants to tell you how to make your own bumper. Soooooo, if any of you talented individuals want to help me make a bumper for my iPod ... you'd be a lifesaver ... because apparently this is top secret stuff.
Raised on the radio
Raised on the radio
Just an all-American boy
I've got my favorite toy

The Ravyns - Raised On The Radio