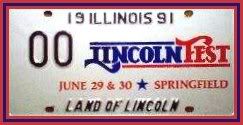 What the
fuck
is wrong with this town? Is it just
me
? Am I the
only
Springfield resident who had
fun
at Lincolnfest? I mean, did I miss something years ago? Were there public beheadings? Did rape gangs roam the streets? Did blood flow like wine on the steps of the Old State Capitol? Seriously ... I am pissed and I want to know ... am I the
only
one with good memories of that event???
I went to the State Journal-Register site this morning and was thrilled when I saw the headline
Downtown Revives A Tradition
. My heart lept ... was it possible? Did cooler heads finally prevail? Nope ...
Per Daniel Pike,
"The throwback event - featuring a dramatic reading of the entire Declaration of Independence and a live performance of Abraham Lincoln-themed period music - christened the downtown park, which officially opened Saturday, said Phil Funkenbusch, show manager for the Abraham Lincoln Presidential Library and Museum."
Jesus ... my head is going to explode. Is that
all
we can do? Historical reenactments? Periodic music? When that fateful bullet was fired in Ford's Theatre, were we doomed to become frozen in time?
Yup ... I'm aware that Lincolnfest was a pretty soggy event. But I'll tell you a secret ... shhhh ... come closer. Guess what? You didn't
have
to drink. No, really! When you stepped onto 5th street, no one shoved a beer into your hand and screamed, "CHUG!" Nope ... they actually sold liquid
other
than booze!
I'll be honest with you. I didn't get drunk at Lincolnfest ... nor was I accosted, assaulted, or molested by anyone that
did
imbibe at Lincolnfest. That being said, I did
see
quite a few people with a buzz on ... it was kinda like the crowd you see at Shop 'n Save after 10 p.m. But I digress ...
Remember the year a local baker made that enormous cake? I have no idea who made it but it was huge ... and it was the best cake I've ever tasted. Remember the kid's area where coins were hidden in hay so the kids could go "searching for treasure"? Remember all those
bands
? The food? The
fun
?
Don't give me this bullshit about people pissing in the streets. The last Lincolnfest was held in 1993 and guess what? Since then our elected leaders have allowed several bars and nightclubs to relocate downtown ... and people are supposedly
pissing
in the streets
every
night. So ... in retrospect, was our annual street festival really so
awful
?
Hey ... I love the Old State Capitol Art Fair as much as anybody else ... but would anyone else like to see the downtown both
revived
and
used
?
It wasn't that long ago, folks. I remember spending the afternoon downtown, then walking down to the Capital lawn to watch the fireworks. I don't know about you ... but I'd
love
to do it again.
I wanna go back
And do it all over
But I can't go back I know
I wanna go back
Cause I'm feeling so much older
But I can't go back I know

Eddie Money - I Wanna Go Back