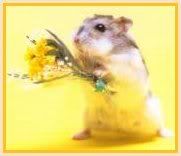 Dude! At 4:00 p.m. today, on the corner of North Grand and 9th Street, there was a guy standing in the pouring rain ... holding a huge fluorescent pink sign that said, "I Love You Melissa - I'm Sorry!"
He'd stand facing the cars heading east ... then rotate and face the cars heading west. When the light changed, he rotated and waved it at the cars facing north ... then again at the cars heading south.
I was sitting in traffic watching this display ... and a thousand questions popped into my head ...
What could he have possibly done to earn this stint in purgatory? What warrants standing in the
pouring
rain and humiliating yourself? Who is Melissa? Did he cheat on her? Did he stay out all night drinking with his buddies? Did she
make
him do that as some kind of punishment? Or is he just trying to win this Melissa back? And most importantly ...
why'd I pick today to leave my digital camera at home???

It's sad, so sad
It's a sad, sad situation
And it's getting more and more absurd
It's sad, so sad
Why can't we talk it over
Oh it seems to me
That sorry seems to be the hardest word

Elton John - Sorry Seems To Be The Hardest Word