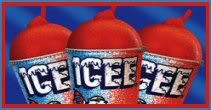 7-Eleven has been quenching our thirsts for decades, and the company will celebrate its 79th anniversary by giving away free Slurpee drinks on 7-11. Customers visiting participating 7-Eleven stores Tuesday can enjoy a free 7.11-ounce Slurpee drink, the semi-frozen beverage 7-Eleven made famous.
Is there a catch? Perhaps ...
An article from the
East Valley Tribute
says,
"7-Eleven is celebrating the Slurpee's 41st birthday today by offering up free ones to customers. The promotion is being conducted companywide, including the 65 stores across the metro region, said Kristian Bos, 7-Eleven's regional field consultant for the Valley."
However, the
Detroit Free Press
says,
"The offer's not good at every 7-Eleven, and the Texas company doesn't have a list of participating stores, so you're on your own to find your free Slurpee. Ask at the store and see what happens."
Hmmm ... what a quandary. Then again ... maybe not. 7-Eleven's
website
says there aren't any stores near Springfield ... or Decatur, Bloomington, or Peoria.
There ARE stores up around Rockford and Chicago or down around St. Louis. So, if you're from Central Illinois ... nevermind ... you're screwed. No Slurpee for you. If it makes you feel any better, a 7.11 oz slurpee is about this big: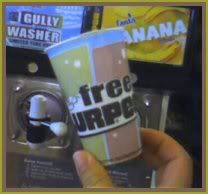 So, if you are
really
craving a shot-glass sized, slurpee-like beverage, may I suggest you drive down to Shell on North Grand and grab a Mt. Dew Icee. Sure, they're a little pricey ... but it's cheaper than driving down to St. Louis, isn't it? Plus ... as a bonus, a Mt. Dew Icee kicks Slurpee's
ass
into next week ... so, hey, you're better off all the way around.
Oh they call it that ole mountain dew
And them that refuse it are few
I'll shut up my mug if you fill up my jug
With some good ole mountain dew

Grandpa Jones - Mountain Dew