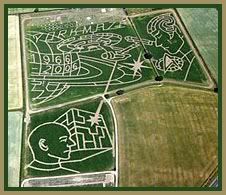 You know, I used to feel guilty about wasting time posting to a blog ... well, not anymore.
"Trekker Tom Pearcy has constructed a giant maze dedicated to Star Trek on his farm near York in northern England. Utilizing advanced GPS technology, Pearcy built the 32-acre labyrinth to celebrate the 40th anniversary of the cult TV show. The maze uses 1.5 million corn plants and claims to be the largest of its kind in the world."
You can see a larger picture
here
. Now, I'm just taking a stab here ... but are we to assume Tom's not really worried about his corn yield at this point?
Everybody's smoking and no one's getting high
Everybody's flying and never touch the sky
There's UFO's over New York and I ain't too surprised

John Lennon - Nobody Told Me