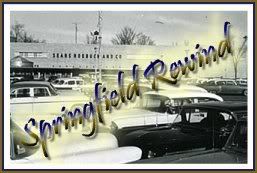 Oh ... My ... God. I am speechless ... and trust me when I say this doesn't happen often. Over on
Unspelled
, we've been taking a trip down memory lane. This
post
started out by discussing what's better or worse about Springfield from 20 or 30 years ago. Today there was a mind blowing comment ... and I'm gonna give
all
the credit where it's due ...
Russ from
Springfield Rewind
contributed the most amazing list I've ever seen. Here's his post, in it's entirety ... cause it's just too good to cob. The only thing I've done is alphabetized the list of stores ... because ... um ... I'm anal. Plus, not having a life helps. Check this out:
This talk about the 'old' White Oaks gives me some ideas for Springfield Rewind. By the way, here are the stores that were a part of White Oaks when it opened in '77:



Air Step
Aladdin's Castle
Baker Shoes
Bottom Half
Bressler's Ice Cream
Brooks Fashion
Buster Brown Shoes
Byerly Music
Casual Corner
Circus World Toy Store
Claires
County Seat
Endicott Shoes
Florsheim Shoes
Flowerama
Foxmoor
Gallery Sea Food
Gingiss Formalwear
GNC
Gordon Jewelers
Hanover Shoes
Helzberg Jewelers
Herndon's
Hickory Farms
Illini Sporting Goods
IPCO Optical
J. Riggins
Jean Nicole
Jo Ann Fabrics
Just Pants
Keepsake Photos
Kinney Shoes
Kirlin's Candies
Life Stride
Lober's
Lowery Organ
Maling Shoes
MCL Cafeteria
Mermod Jaccard & King
Merry Go Round
Motherhood
Murray Shoes
Musicland
National Shirt Shop
Nobil Shoes
Orange Julius
Oriental Gifts
Osco Drug
Paul Harris
Petrie
Printer's Ink Bookstore
Roberts Brothers
Service Optical
Shaver's World
Silverman's
So-Fro Fabric
Spencer Gifts
Star of India
Susie Casuals
Swiss Pretzel Shop
Tanneberg & Sandorwitz Deli
The Carousel
The Children's Shop
The Cookie Factory
The Hub
The Ranch
Tinderbox Tobacco
Topps & Trousers
Union Jack
Wag's Restaurant
Walden Books
Winston's
Zale



AND the 4 anchor stores - Famous Barr, Myers Brothers (now Bergner's), Sears, and Montgomery Ward (now Dick's)."
Jesus! Let's just name Russ our official "Springfield Historian." Do we have a post like that? If not, we need to
create one
immediately. His website,
Springfield Rewind
has the most awesome collection of Springfield photos I've ever seen. It's obvious he's put a
lot
of work into his project ... and it really shows.
I'd tell you to go check it out ... but common ... I have to be the last person in Springfield who
hasn't
seen this. But, in the odd chance that you've missed it, go to
Springfield Rewind
right now ... you'll laugh ... you'll cry ... you'll feel
really
freakin old!
Note: What stores I remember (and don't remember) from the list above is another massive entry all by itself. So consider this post ... ... to be continued ... ...
From now on you'll be history
You'll be his...
You'll be his...
You'll be history
And we will glorify your name
You will be a bust...
Be a bust...
Be a bust...
In the hall of fame!

The Wizard of Oz - Ding Dong The Witch Is Dead