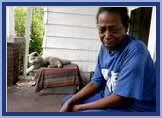 About fifteen years ago, I was sitting on the ledge that runs around the Old State Capitol fence ... just enjoying the sunshine and eating lunch with my co-workers. We were playing the game, "What Would You Do If You Won The Lottery?" I'm sure you're familiar with this game, because we all play it as soon as the Lotto goes over $100 million.
In any case, we were sitting there taking turns listing what we'd do with the money. Most of us gave typical answers like, "I'd buy a new house ... I'd help my family out ... I'd pay off my kid's student loans ... I'd give money to my church." You know ... stuff like that.
But one co-worker was different. She was always a little odd ... eccentric but likeable. The only thing she wanted to do with her fantasy winnings was open animal shelters all over the city.
I was young and brash ... and her answer annoyed me. So I shot back at her, "But what about shelters for
humans
... there are homeless people on the Capital Plaza not more than
50 feet
from you ... what about
them
?"
I remember it like it was yesterday. She looked sad ... and a little embarrassed ... as she answered, "There are always people who will help other people ... but nobody takes care of animals."
At the time, I wrote her off as one of those "animal freaks." After all, she had a membership with PETA ... so it was easy to think of her in those terms. And common ... who
doesn't
love animals, right?
In today's State Journal-Register, there's an
article
that broke my heart ... and made me sick. As I read it, I immediately thought of that co-worker from long ago.
Annetta Lindsey was holding her suffering 14-year-old dachshund, Coco, when a police officer arrived at her house on East Jackson Street on Saturday night. Coco was bleeding and foaming from his nose and mouth and convulsing.

A man had picked up a board with a nail driven through the end and struck Coco in the head with it, causing a puncture wound.

The man apparently said Coco nipped at him as if to bite him. Lindsey said the man had been teasing the dog, which was tied up on the front porch. She went in the house and a short time later heard a cracking sound and a yelp from Coco.

"Coco was lying there gasping for air. I tried to get him to get up, but he couldn't get up," Lindsey said. "The officer came and made Coco come to me. She said he was dying. I told animal control when they came to please save him."

Coco survived the weekend but was euthanized Monday morning because of repeated seizures, an animal control officer later told Lindsey.
God ... what a
sick and horrible
world we live in. Fifteen years later I can't help but think maybe that co-worker was right all along. "There are always
people
who will help other
people
... "
"Old dogs care about you even when you make mistakes.
God bless little children while they're still to young to hate."
When he moved away I found my pen and copied down that line
About old dogs and children and watermelon wine.

Tom T. Hall - Watermelon Wine