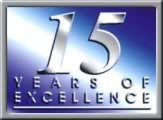 This month is my anniversary ... a pretty big one, actually. I've been working in this same office for fifteen years now ... and I'm awfully proud of the time I've put in so far.
So this morning, the boss calls us into the breakroom for a presentation. We were teasing him that he was going to sell us Amway ... or ask us to accept Jesus as our Lord and Savior ... but no. Once we're all seated, he brings in this
big
bag and announces that we're there to recognize some
years of service awards
.
First, he pulls out a certificate and a gift box ... and announces that one of my co-workers has been here twenty years this month. She received an engraved pen and pencil set. Next, he pulls out a plaque and another gift box. This one is for another co-worker who has been here thirty years this month. He received an engraved watch.
Then, with much aplomb, he folded the bag ... and said thanks for coming. Everybody stood up and walked out. I was speechless ... and you guys know that's a
very
rare thing.
Fifteen years.
Fifteen years
. And not one word? I don't need a pen set or a watch or a box of Cracker Jacks ... but couldn't he have said, "Good job, ThirtyWhat?"
So, I'm sitting here ... feeling slightly disgruntled and rather invisible ... and I'm thinking I'm going to take a long lunch.
Cellophane
Mister cellophane
Should have been my name
Mister cellophane
'Cause you can look right through me
Walk right by me
And never know I'm there

Chicago - Mister Cellophane