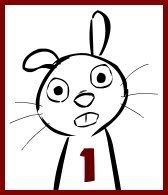 Oh ... my ... God. Stop what you are doing ... because I have something that you've got to see.
Everyone Else Has Had More Sex Than Me
The
song
is from an Australian alternative rock band called TISM. It was the first and only single off their 2004 "
The White Albun.
" It's basically one man's tale of woe. He just feels like everyone is getting a whole lot more action than he is.
The cartoon is by
Bernard Derriman
. It was one of a multitude of entrants in an online competition ... and it's no surprise that his depressed, sex-deprived bunny won hands down. Want more info? You can find it
here
.
Check it out ... it's cute ... it's sad ... it's the best thing since
There She Is
.
Everyone else has had more sex than me
Does anyone else get that feeling?
Teenagers naked
Couples in threes
Grandparents swinging from the ceiling

TISM - Everyone Else Has Had More Sex Than Me