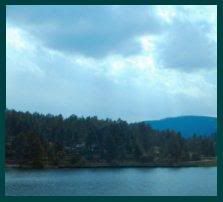 I'm online again and
boy
, does it feel good. I haven't dropped off the face of the planet ... but blogging isn't easy when you don't have a computer. Last night in the hospitality room, they announced we needed to turn in our laptops for configuration. So, after dinner I sat in my hotel room and ... gasp ... read a book. Good lord ... I was one step from using stone knives and wearing bearskins.
They gave us the opportunity to go to an Irish Pub tonight but I just couldn't make myself go. I'm exhausted ... totally spent. Yesterday we drove up into the mountains and had lunch in Georgetown. It's a tiny little village nestled in a valley ... it's just as picturesque as you'd imagine it would be. In fact, I took the shot above by a beautiful lake in Evergreen.
It's
not
that I didn't enjoy myself ... or appreciate the scenery. But when you arrive at your hotel at 1 a.m. and barely manager four hours of sleep before starting your day ... it's
bound
to catch up with you eventually.
So, it's the end of the day and I'm in my pajamas, sitting on my "heavenly bed," eating Asian wings I ordered from room service. They're spicier than I'd counted on ... but, since I also ordered an amaretto sour ... I can't say that I care anymore. After today's stress, a cocktail ... even a
wildly
overpriced cocktail ... is money well spent. And that's what per diem is for, right? Self-medication?
Cause I drink alone
Yeah, with nobody else
I drink alone
Yeah, with nobody else
Yeah, you know when I drink alone
I prefer to be by myself

George Thorogood - I Drink Alone