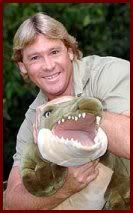 We all knew it was coming ... but that doesn't make today's news any easier to hear.
Steve Irwin
, known the world over as The Crocodile Hunter, died today as a result of a sting-ray attack.
Anytime someone as young as Steve dies, it's a huge loss to his family. He has a daughter and a son. I'm sure that his wife is devastated. But if there's any comfort in this ... he died doing what he loved.
If you
have
to go ... and unfortunately eventually we all do ... then I suppose that would be the way to do it ... enjoying life and squeezing every last drop out of it.
Your mind tricked you to feel the pain
Of someone close to you leaving the game of life
So here it is, another chance
Wide awake you face the day
Your dream is over...or has it just begun?

Queensryche - Silent Lucidity