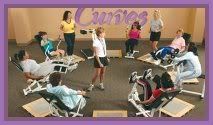 Alright, I wouldn't quite call it a "plunge" ... but more than my toes are wet this time. I completed my first full workout at Curves ...
and
I lived to tell. Don't laugh ... it's quite an accomplishment.
When I was researching the idea of going to Curves, I read several posts from people who said it wasn't a hard enough workout. They said they didn't even break a sweat. I have no idea what kind of workout those people normally do. Lifting beer kegs for fun? Towing semi-trucks with their teeth for AAA? Building pyramids for the great god, Ra, on the weekends?
Curves is fun ... but it's certainly not easy. All I am saying is this. Remember that saying, "Women don't sweat ... they glow." Well, at 4:45 today I was glowing like the Clinton nuclear plant.
Come on let's sweat baby
Let the music take control
Let the rhythm move you
Sweat -- sweat!

C&C Music Factor - Gonna Make You Sweat