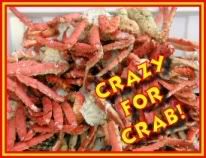 Back in the halcyon days of low-brow Springfield cuisine, Mom and I used to have dinner at Buffet City fairly often ... every couple weeks or so. Now that
the man
has taken away our favorite haunt, we settled for International Buffet on Dirksen last night.
Now I'll admit ... Curves be damned, I was craving snow crab. I can't explain it. The stuff is like crack ... and I'm a crab-crackin' butter-dippin' junkie. Mom, on the other hand, got sick a few months back after eating at Buffet City ... so she's a little bit more cautious when it comes to shellfish. More specifically shellfish that comes at a suspiciously affordable price.
But we got to talking and our theory was that if Buffet City was busted for employing illegals ... there was a pretty good chance that it's two clones would be getting a similar visit soon. So, we went ... hoping to beat ICE to the punch.
Here are the valuable lessons I learned from last night's dinner:
Snow Crab + $8.99 = Somebody's Getting Screwed
- If you are paying under ten dollars and eating two pounds of crab, someone is getting short shrifted. Common, people ... I was looking around at the diners in our section, and everyone was taking full advantage of the "all you can eat" attitude. Each table had at least one plate
heaped
with empty shells ... and I got to thinking ...
do the math
. Somebody is getting boned but good ... whether it's waitresses, cooks, or the IRS. Yes, I'm sure they buy the
cheapest
ingredients possible. But even so ... can someone explain to me how this works?
You Can Have Too Much of a Good Thing
- If you are driving home, and your fingers are "pruney" from cracking crab ...
you
have over-indulged. There's a reason Red Lobster offers you a
portion
of crab legs ... you aren't supposed to eat your weight in them.
All You Can Eat Buffets And A Gym Membership Are In Direct Opposition To One Anther
- Yup ... it was good.
Delicious
in fact. But when I'm working that circuit today, I'm going to be regretting every calorific bite.
Another one bites the dust
Another one bites the dust
And another one gone and another one gone
Another one bites the dust

Queen - Another One Bites The Dust