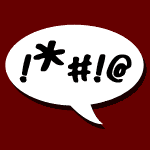 I've never considered some of the things we say without thinking ... and how hurtful they may be to others. I was walking out to my car today and an acquaintance passed, smiled warmly, and said, "Hey, how're you doing?"
What an innocent question. But no one cares. I don't mean that in a personal, whiney, poor-me tone. I mean ... when we ask that question, we don't really care. It's just a greeting.
"Hi there! How are you?"
"Fine, thanks! How bout you?"
"Amazing ... catch you later."
That's the way it's supposed to go. Not ...
"Hi there! How are you?"
"I hurt. Frequently. Particularly badly
right at this moment, as a matter of fact.
I'm going home because it's impossible to sit
at my desk and concentrate ...
and I need to take my medication."
"Oh ... alrighty then."
No no no ... I didn't actually have that conversation ... because, pain aside, I know the rules of polite society. I said I was fine ... and kept walking. Because at that moment, I really did need to get home, take my prescription, and lie down. And, in the end, snapping at her wouldn't have made me feel any better ...
Hello
How are you?
How'd you sleep last night?
Did you dream of me all night?
How are you?

Cheap Trick - How Are You