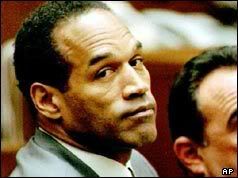 Okay, I'm not saying I
would
kill O.J. ... but if I
did
I'm just saying these are some of the ways it could be done:
Run him over with a white Ford Bronco

Hit him repeatedly with a pair of size 12 Bruno Magli shoes

Dip him in honey and bury him up to his neck in a nest of fire ants

Choke him with a bloody leather glove

Bludgeon him with a golf club

Send zombie Johnnie Cochran after him

Pay Kato Kaelin to whack him ... you know he needs the money

Force him to run through an airport ... for days ... until he collapses

Wrap him in meat and send a pack of ferocious Akitas after him

Usher him into a waiting limousine and drive it off a cliff

And finally ...

Make a bonfire out of the millions of books of his that will never be sold ... and burn him at the stake
Again ... I'd never actually do this. But, if any publishers out there want to give us a 3.5 million dollar book deal, I'm pretty sure we bloggers could come up with a pretty amazing story ...
Yeah they threw him in jail
And they brought him to trial
With a hired 'million dollar attorney
Told so many lies
I almost went blind
If he didn't do it who did
If he didn't do it who did

Mojo Nixon - Orenthal James (Was A Mighty Bad Man)