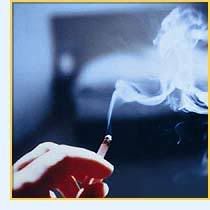 Those of us living in Central Illinois just can't escape this year's
hot topic
. Read the
comments
under any SJ-R article regarding the new smoking ban and the divisions are unmistakable. On top of that, the comments under this excellent
posting
at The 11th Hour are sad proof that this issue is bringing out the worst in a lot of people.
Smokers shout that their civil rights are being trampled upon. Bar owners insist they're being persecuted and abandoned. City Counsel members gnash their teeth as they straddle the political fence. And non-smokers? Well, let's be honest ... some of them are pretty self-righteous about winning the battle.
Here's the thing ...
I'm a liberal ... and I
want
to campaign for smokers rights. I
want
to get on here and declare that smokers should have the choice to smoke in bars if they want. I
really
want to say how unfair this ban is ...
But here's the reality of the situation ...
My 65 year old mom loves going out. In the interest of full disclosure, I'll admit that she doesn't go to bars ... but she
loves
going to riverboat casinos and restaurants. Oh yes ... she loves them so.
Earlier this year, she was diagnosed with emphysema (which, by the way, isn't even called that anymore ... it's now COPD). She smoked for 40 years ... and she takes full responsibility for having done this to herself. She'll tell anyone who asks that
this
is what smoking does to you ... and no one
made
her smoke.
One of her favorite places on the planet Earth is up in Peoria. Unfortunately, Par-A-Dice is
so
unimaginably smoky that she can't go more than once a week. Any more than that and she gets physically sick. I'm not talking about an "I don't feel good" kind of sick ... I'm talking about a scary "I can't breath" kind of sick.
So fine ... people with emphysema should just stay home, right? What about people like me? I've got asthma. It's under control and I only use my inhaler occasionally. My lung condition is not that bad ... and the smoke at Par-A-Dice really bothers me too. So, for me, going to the casino is a special event kind of thing ... just for birthdays and such.
Before you ask, yes ... they have a non-smoking section. It is a small bank of about 4 rows of machines ... sitting in the
middle
of the 3rd floor. Wrap your head around that. It about as logical as putting a book inside an aquarium and declaring the space around it the "dry section."
I'm not naive. Even if there was a state-wide smoking ban, it would never cover casinos ... but damn ... you can't imagine how nice it would be to go out and
not
have to use my inhaler. Honestly, I don't go to bars ... but I
can
tell you how nice it is to be in a restaurant and not have smoke drifting over my table.
So I'm conflicted. The liberal in me screams that
I
don't have the right to tell
you
not to smoke in a bar ... or a bowling alley ... or anywhere else for that matter.
But the
realist
in me knows that
your
smoking doesn't just affect
you
. In an enclosed building, the cigarette smoke saturates the air ... and that air gets harder and harder to breath over time.
I don't want
anyone
to lose their business over this. But damn, people ... we have to look at the big picture.
Washington State
has the nation's strictest statewide smoking ban.
New York
enacted a statewide smoking ban in 2003. California and Delaware have stringent indoor smoking prohibitions.
Did every bar and bowling alley in Washington close? Did every alcoholic in New York say, "Well, screw this ... I guess I'll just hit that AA meeting now?" Delaware is small ... did every smoker drive over the state line to light up in Maryland?
So to all the smokers in Springfield ... I'm sorry. I
want
to be on your side. But I'm
not
.
Smoke smoke smoke that cigarette
Puff puff puff and if you smoke yourself to death
Tell St Peter at the Golden Gate
That you hate to make him wait
But you just gotta have another cigarette

Jimmy Dean - Smoke Smoke Smoke (That Cigarette)