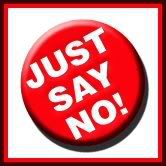 For those of you too young to remember Nancy Reagan's
Just Say No
campaign from the 80's, I submit for your approval:
Axl Rose was arrested early Tuesday after allegedly biting a security guard in the leg at his hotel, police said.

Police spokeswoman, Towe Hagg, told The Associated Press that Rose was drunk during the confrontation and was not questioned by police until he had sobered up. "He was deemed too intoxicated to be questioned right away," she said.

It was unclear what caused the fight, but Swedish tabloids said the guard tried to intervene when Rose started arguing with a woman in the hotel lobby.
There are a lot of valuable life lessons that could be gleaned from this story ... but since a picture is worth a thousand words ...
ThirtyWhat's Life Lesson For Today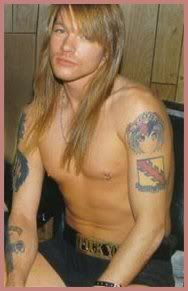 Axl Rose Then ...

Axl Rose Now ...
Just stay clean and sober, kids ... for the love of all that is holy
stay clean and sober
.
Doctor, please, some more of these
Outside the door, she took four more
What a drag it is getting old

The Rolling Stones - Mother's Little Helper