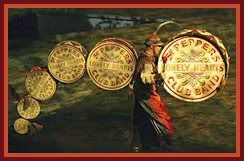 "The Cirque du Soleil's £75 million extravaganza set to the songs of the Beatles has met with rave reviews from critics today ahead of its gala premiere tonight. The circus spectacular is called LOVE and premieres tonight at the Mirage Hotel in Las Vegas. It is, astonishingly, the first time the Beatles have allowed their music - including some previously unheard tracks - to be performed in a show.

Critics worldwide have showered the extravaganza with plaudits. The Daily Telegraph's Charles Spencer described the show as "ravishing and almost indecently spectacular. Cirque du Soleil is also overpoweringly moving. For it achieves the apparently impossible, allowing you to hear the Beatles with fresh ears. At times you seem to be listening to the music of your childhood and youth as if for the first time."
I would give my left
nut
to see this. In fact, I would
grow
a left nut just so I could
give
a left nut to see this.
Since
Warren
is passing out his billions, would someone let him know he could donate to the
"All You Need Are Tickets"
fund? They run
$210
a piece for seats in Section 101 ... and I can be reached right
here
anytime by e-mail.
All we are saying, Warren, is give ThirtyWhat a chance ...
Oh, she's got a ticket to ride
She's got a ticket to ride
She's got a ticket to ride
But she don't care

The Beatles - Ticket to Ride