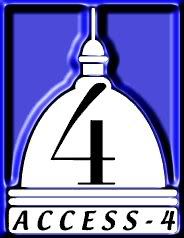 I've got
amazing
news. The guys at
Access 4
are currently checking into getting their on-air schedule up on the digital cable guides ... but in the meantime, they've
answered our prayers
. After a bit of begging on my part, they've given their permission and starting today, I'll be posting the Access 4 programming schedule right here on ThirtyWhat ...
how cool is that
?
I can't tell you how many times this has happen to us. We'll be flipping around and catch the last five minutes of a show on
Access 4
that looks
really
interesting ... but we've got no idea what the show is called ... or more importantly when it'll be on again. Well,
never again
.
First off ... here's a peek at what's on tap for the next two days: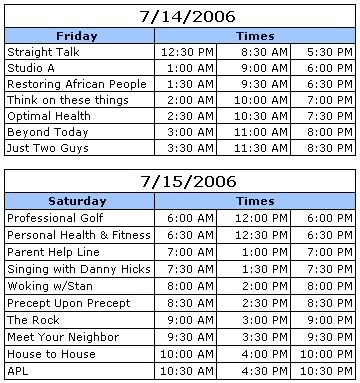 To find out what Access 4 will be showing for the week of July 14th through July 21st, click
here
for an excel file with all the information you'll ever need. We owe Nick over at Access 4 a big
thank you
for running this through the proper channels for us. So if you like what you see and want to say so, just visit their
website
.
If for no other reason, get the schedule so you can record John and Micah over at
Just Two Guys.
I'm still disappointed that I missed their horseshoe tasting episode. You can bet your bottom dollar I'll be setting up a season pass on TiVo so that it never happens again.
Support Springfield, support local talent, and support Access 4 ... and while you're at it, you'll be catching up on what Tom Shafer is doing. That
alone
has got to be worth the price of admission.
There's a party goin' on right here
A celebration to last throughout the years
So bring your good times, and your laughter too
We gonna celebrate your party with you

Kool And The Gang - Celebration