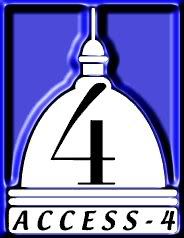 It's hot outside. Stupid hot. Sure, you could stay inside in cool, climate-conrolled comfort ... but what will you do for entertainment? You've seen every episode of King of the Hill and there's only so much Rachel Ray one human being can stand.
Why not try something new? There's a whole line-up of local talent that's ready and waiting for you. Why not download the
Access 4
schedule right
here
... then grab an icy cold Dr. Pepper, a bag of Cheeto Puffs, and the remote. You'll stay cool
and
get to see your neighbors share their ideas and interests.
And as a bonus, I hear if you watch
Just Two Guys
enough, you'll be able to recognize John and Micah when you see them around town. Now, I'm not making any promises ... after all, I've watched Channel 20 years for thirtysome years and wouldn't know Don Hickman if he was standing in my living room eating a plate of
Corky's
ribs.
We have lost the time
That was so hard to find
And I will lose my mind
If you won't see me
You won't see me

The Beatles - You Won't See Me