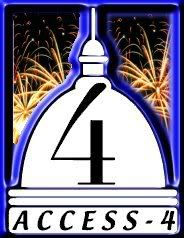 When Nick says he has good news ... he
really
has good news. Access 4 is going to have their programming listed on the TV Guide Channel
and
on the digital cable guide as well! The information should be displayed in about two weeks. And guess what else? After that, they're even going to be adding program descriptions written by the community producers themselves. Do we have a great cable access program or
what
?
On a slightly different note ... the last time you picked up an Illinois Times or Springfield Shopper, did you happen to notice a new rack by your old favorites? As they say on their
website
,
The Sangamon Star Is Not Just Another @#$% Newspaper.
It's a free, monthly, humorous newspaper printed on genuine paper and distributed in Sangamon County, Illinois, USA. Think ...
The Onion
... only with local flavor.
Well, The Sangamon Star's founder and editor, Howard Tate is going to be a guest on Prairie Lawyer on ... you know what's coming ... Access 4. (See how I worked that back around?) Howard's interview airs Monday, August 21st 10:30 am and 7:30 pm. Do your self a favor and tune in ... or set your TiVo. The Sangamon Star is always guaranteed to bring a laugh. And, hey ... supporting local talent like Howard is just good karma, Earl.
Because Oh I feel like laughing
Oh I feel like laughing
Oh I feel like laughing
All because of you
All because of you

Goo Goo Dolls - Laughing