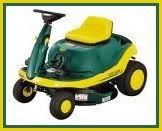 Our lawnmower broke about two months ago. It's a riding mower ... but just barely. It's called a "yardbug" and it's a cute little guy ... emphasis on little. It ran fine for four years ... and last year we even paid over $300 to get it tuned up and running just right. But for whatever reason, one weekend back in June it just stopped working.
Now, keep in mind neither I nor (my ex-husband) know how to work on engines ... so we replaced the battery and fuses. Neither one of those attempts worked. So, we weighed our options. First, we considered fixing our old one ... but, damn, we just paid a bundle
last
year to keep the thing running. Then, we considered buying a new one ... but, after shopping around, we decided they were just too pricey.
So, in the interim ... we stumbled across a local man who does lawn care. For $25, he mowed and trimmed our yard ... and it looked
amazing
. He did a fantastic job for the last two months. But now?
He advertises that he cleans gutters, builds fences, cleans out fence lines ... generally does about any odd job you could think of. And hey ... by coincidence
we
needed some odd jobs done.
So, I asked him how much to clean out our gutters ... and his price seemed reasonable. I asked him how much to clean out our fence line in the back while he was at it ... he offered to walk around the whole yard and talk about what all needed to be done.
After months of good service ... he hasn't shown up in weeks. He's rescheduled three times, makes excuses, and doesn't return phone calls. My yard is now shaggy ... my gutters have small saplings growing out of them ... and my fence line is a wildlife preserve.
I don't get it. I mean, we paid him cash every time ... I wouldn't
dream
of stiffing anyone. We kept our dogs inside ... why in the world would he blow us off? To top it off, it's almost the end of the mowing season ... and if he doesn't show up this weekend, I guess we'll have to find someone else. This is so
freakin
frustrating.
So, if you'll pardon me ... I'm going outside to try and cut out a little of the
hedge
that has sprouted up through our fence.
There is unrest in the forest
There is trouble with the trees
For the maples want more sunlight
And the oaks ignore their pleas

Rush - The Trees