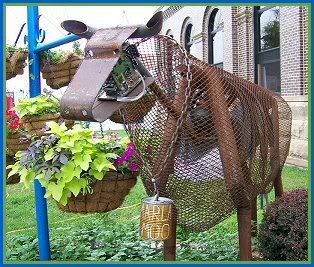 Just the other day, I posted a picture of Marla Moo ... the second most popular cow at the Illinois Dairy Building.
That's obviously a joke ... since there are only two cows at the Dairy Building ... the world renowned Butter Cow ... and the inconspicuous Marla Moo.
This morning I noticed that a visitor posted a comment asking:
"What's the electronics inside Marla Moo's head for? Does she talk or make noise?"
Well, that was a damned fine question ... and, quite frankly, I didn't have a clue.
So, I set out on a quest to find the answer ... and a couple of phone calls later, I got the story. Believe it or not, it's a pretty good tale. Get it?
Tail!
Bare with me ... this is apparently the day for bad cow jokes.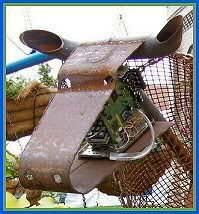 Marla Moo is the brainchild of Kevin Behrends. He created her as a 4H Project a couple years ago ... and would you believe he was only
16 years old
when he welded her into life.
I spoke with Marla Behrends, superintendent of the Dairy Building, who was incredibly friendly and shared the story of this mysterious mooser. Marla is Kevin's aunt
and
the sculpture's namesake. She said that the circuit board is meant to represent a brain ... likewise, there is a mechanical heart in the sculpture as well as wires connecting the two.
So ... no ... Marla Moo does not, in fact, moo. However, she's still quite a bovine ... and a pretty impressive achievement for
anyone
, let alone a 16 year old. Great work, Kevin!
Step right up and don't be shy
Because you will not believe your eyes
She's right here, behind the glass
You're gonna like her
'Cause she's got class

The Tubes - She's A Beauty