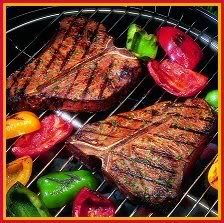 I like to think I'm pretty savvy when it comes to the Internet. During the week days, I split my time between fixing computer problems and finding answers to obscure questions.
That's why I was so disappointed this weekend when I couldn't find the answer to
one
simple question ...
Is it normal for your taste in food to change as you get older?
About a year ago, something changed. Suddenly, I didn't like steak anymore. It wasn't a gradual change. I went from craving sirloin ... to disliking the taste, texture and smell of any type of steak overnight.
Bit by bit the problem spread ... and now I don't like ground beef. It doesn't seem to matter if it's a plain hamburger or seasoned taco meat. I just don't find it appetizing. It's spread to other things too. I'm not fond of pork chops anymore ... or polish sausage ... or sausage of any kind for that matter.
Chicken's still alright ... for now. But Slim Jim's ... you know those beef sticks? I used to
love
'em ... now they make me gag.
Here's the odd part. I'm craving things I never liked before. The smell of real crab used to make me sick. Now I could eat that stuff by the barrel. I always liked shrimp but now it's probably my favorite food.
So I went online and Googled this subject. The majority of the results revolved around PETA and the whole, "Don't Eat Anything With A Face" movement. The one thing I can guarantee you is that these changes are not related to animal rights.
There were a few links that explained that your tastes buds change as you get older. Basically you slowly lose your ability over the years to taste sweet or salty foods after you turn forty. That's not my problem ... I can taste just fine. If anything ... it feels like I'm tasting MORE ...
So now I'm turning to you guys. Has anyone heard of this before? Does your taste in food shift every so often ... or did it happen because I'm getting older?
I hope it reverses itself at some point ... because I miss cooking steaks out on the grill.
Don't want to argue
I don't want to debate
Don't want to hear about
What kind of food you hate
You won't get no dessert
'Till you clean off your plate
So eat it

Weird Al Yankovic - Eat It