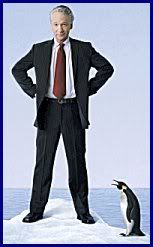 If you have HBO, set your TiVo to record the season premier of Bill Maher's
Real Time
. If you don't have HBO, call Insight and subscribe
right now
. They're repeating the premier Monday night ... so don't wait.
Call now.
This week, Bill's guests include Spike Lee, Elvis Costello, and Senator Max Cleland. But that's not why you want to subscribe ... the money shot is on guest Christopher Hitchens. He's a republican apologist who thinks he's the next Winston Churchill.
If for no other reason, tune in to watch him antagonize the studio audience. The episode peaks with Mr. Hitchens flipping off the audience and
actually
telling them to fuck off. Now
that
is good entertainment.
New Rule: Anna Nicole Smith can't get pregnant
until Britney's baby grows up. There are just not
enough investigators at Child Family Services
to keep these two infants alive at the same time.
Anna Nicole, if you're that desperate for a toothless
human who can barely speak and cries every time
he sees your breasts, find yourself another husband.

Bill Maher - New Rules