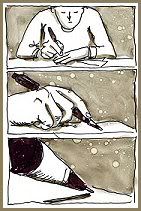 ... To Anyone With Internet Access:
Do you remember when you were a child and your mother told you,
"Never take candy from strangers?"
Or how about
"If it sounds too good to be true, then it probably is."
Well, those same rules apply to e-mail and the internet. I know people who have been online for
years
and, although they should
know
better, they
insist
on filling my inbox with spam. Well, no more. I hate to be the bearer of bad news. But it's time someone set a few things straight:
You are not an African princess. You have not inherited millions of dollars from some long-lost relative. You have not won the Irish/Canadian/Australian lottery. In fact, just so we're clear on this ... you are not going to win
any
lottery in which you don't
enter
. This should be basic common sense, people.
Bill Gates is not going to give you thousands of dollars because you forward an e-mail ... likewise you are not going to get a free meal at Outback or gift certificate from Old Navy. Yes, KFC
was
giving away free popcorn chicken ... back in 2002. I think it's safe to
stop
forwarding that particular e-mail.
No one is giving away free X-Box, PlayStations, or iPods. Texas driver's licenses
do not
include a toll-free number that allows stranded motorists to receive free towing services. While it is
true
that a brothel in Nevada offered free sex to U.S. troops returning from Iraq ... the offer was made to the first fifty soldiers who presented themselves at the Moonlite Bunny Ranch ... and the offer was made back in 2003. Wanna bet those fifty spots have already been "filled"?
While we're on the subject of e-mails ...
Are we friends? If so, then I
know
we're friends and I don't need a forwarded e-mail from you telling me about it. I don't want to be hit by a virtual snowball, a virtual pumpkin, or anything else virtual or otherwise.
Do you love Jesus? Good for you. I really don't need another e-mail that confirms your love for the Lord and Savior. I also don't need to read another message that tells me how God will grant me a wish if I "pass it on". Listen to me ... God is
not
a genie. He will not grant you a wish just because you fill my inbox with spam.
Have you ever received an e-mail that said, "Allah loves you" or "The prophet Abraham says if you forward this to 100 people you will see a little dancing taco bell dog run across your screen" or "Joseph Smith hid $100 in a Gideon Bible in a Holiday Inn?" Me neither. Just something to think about ...
Why the hell do you keep forwarding this stuff? Stop. Take a minute. Write a
real
e-mail. Tell me how you're doing ... ask me how
I'm
doing. Tell me what's going on in your life ... or just write to talk about current events. I want a message from
you
... not just another picture of Maxine suggesting someone kiss her gluteus maximus.
So, are we clear on this? Good. Now, if you'll pardon me, I have to go take care of a minor emergency. According to my latest e-mail, our eBay account has been suspended "due to credit card verification problems."
Look, could I have egg, bacon, SPAM,
and sausage without the SPAM?
Uuuuuuuuugggggh!
What d'you mean uuugggh!? I don't like SPAM!

Monty Python - Lovely Spam