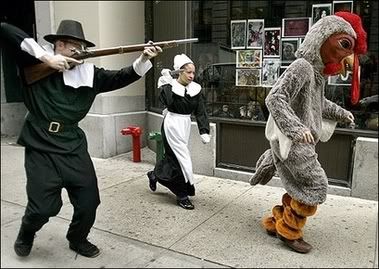 Happy Thanksgiving, everybody! There are so many negatives in the world that it's hard to focus on the positive. And, although it sounds trite, I am still thankful for all the wonderful things in my life ... an amazing family, a roof over my head, and friends who are there for me.
Plus ... let's be thankful that we can live in a country where we can put our opinions out for everyone to see without fear of some secret police knocking our door down in the middle of the night. Let's be thankful we can debate issues without worrying about repercussion.
Enjoy your turkey. Eat that stuffing. Eat, drink, and be merry for tomorrow ... well ... tomorrow we'll be blogging.
Eat the turkey all night long
Fifty million Elvis fans can't be wrong
Turkey-lurkey doo and
Turkey lurkey dat
I eat that turkey
Then I take a nap

Adam Sandler - The Thanksgiving Song